KOMPUTERY - NAPRAWA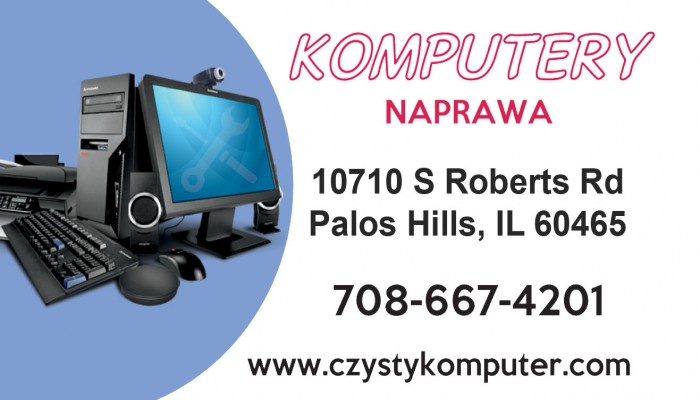 call now
Computer Repair Services in Hickory Hills, Chicago, Palos Hills, Burbank, Lemont, Bridgeview. For our customers Antivirus for 3 years free. Open Hours: Mon. 10 AM - 8 PM Tues. 10 AM - 8 PM Wed. 10 AM - 8 PM Thur. 10 AM - 8 PM Fri. 10 AM - 8 PM Sat. 10 AM - 3 PM Sun. Closed Naprawa Komputerów w Palos Hills, Chicago, Hickory Hills, Burbank, Lemont, Bridgeview. Usuwanie wirusów oraz złośliwego oprogramowania. Reinstalacja i optymalizacja systemu Windows. Czyszczenie oraz przyśpieszenie pracy twojego komputera. Dla naszych klientów Antivirus na 3 lata gratis.
10710 S Roberts Rd
Palos Hills
IL 60465
United States
7086674201
Polish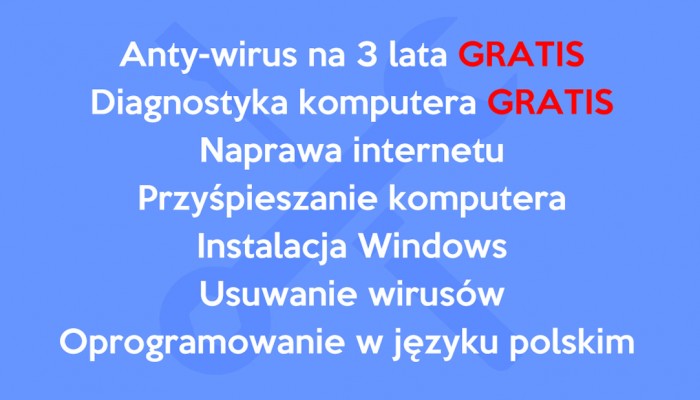 News
05/12/2021
DOBRA PRACA OD ZARAZ Fajni ludzie, miła atmosfera, możliwość rozwoju, codziennie nowe wyzwania, zero nudy. Jeśli tego szukasz, to nie zastanawiaj się, drugiej okazji nie będzie, ta praca może być twoja już dziś… więcej na stronie: https://czystykomputer.com/dobra-praca/
09/30/2020
Zachęcamy do instalacji usługi antywirusowej Live Guard360 tylko w naszych punktach serwisowych. Najlepsza z usług, jaka została wymyślona, aby chronić twój komputer. Tego jeszcze nie było! - Usługa zawiera gwarancję na bezpłatne i nielimitowane czyszczenie komputera z wirusów w przypadku problemów. Pozbądź się raz na zawsze problemów z komputerem.
12/29/2017
Życzymy naszym klientom wszystkiego najlepszego w nadchodzącym nowym roku 2018
10/10/2017
This week we invite you to free diagnostics of your computer's operating system.
09/01/2017
We have new antivirus licenses for the next 12 months for free. We invite our clients for free activation.
09/01/2017
Mamy juz nowe licencje na Antywirus na kolejne 12 miesiecy za darmo. Zapraszamy naszych klientow po bezplatna aktywacje.
08/24/2017
Hot Offer! We have a very good deal on a laptop. We have a very good deal on a Laptop LENOVO G51. AMD A8-7410 2.20 GHz, 8 GB RAM, 1 TB HDD. New Windows 10 Home 64 Bit, Full MS Office 2013 Pro, Antivirus. Get it today, only $250. Shipping is available for an additional fee.