★ Same Day Dumpsters LLC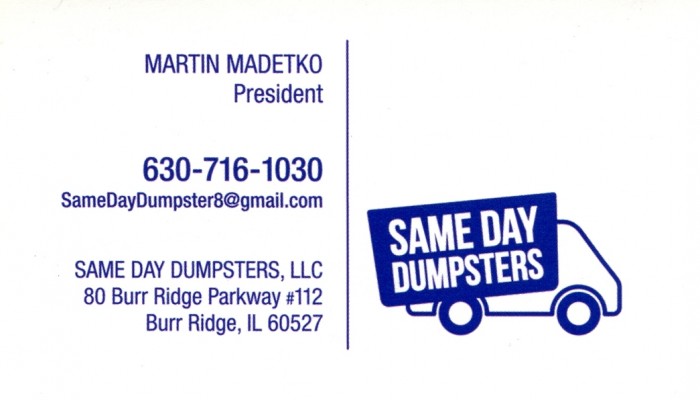 call now
Rent a Dumpster Near You. Dumpsters can be delivered and picked up in Chicago land and suburbs, including: Berwyn, Bolingbrook, Blue Island, Bloomingdale, Brookfield, Burbank, Calumet City, Carol Stream, Chicago Heights, Cicero, Crest Hill, Darien, Des Plaines, Dolton, Downers Grove, Elk Grove Village, Elmhurst, Frankfort, Frankfort Square, Gooding Grove, Harvey, Homewood, Joliet, La Grange, Lemont, Lincolnwood, Lisle, Lockport, Lombard, Matteson, Maywood, Melrose Park, Midlothian, Mokena, Morton Grove, New Lenox, Naperville, oak Forest, Oak Lawn, Oak Park, Orland Park, Palos Heights, Park Ridge, Plainfield, Romeoville, Roselle, Schaumburg, Stickney, Tinley Park, Warrenville, Westchester, Wheaton, Woodridge and other surrounding cities. Contact us for reliable, efficient and professional dumpster rental service.
80 Burr Ridge Parkway
# 112
Burr Ridge
IL 60527
United States
6307161030
English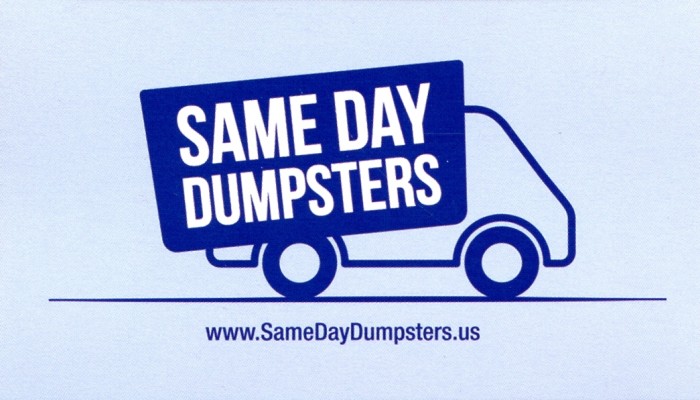 News
03/02/2021
TO MAXIMIZE THE SPACE IN YOUR DUMPSTER, BE SURE TO BREAK DOWN BULKY ITEMS SUCH AS: CARDBOARD BOXES, SHELVES, BOOK CASES AND DRESSERS!
02/23/2021
When it comes to big landscaping and clean ups or those long awaited home improvement projects, a dumpster rental can make the work a snap. Having a rental period keeps you on target with your time goals because you have a finite number of days you have the dumpster. This motivates you to get the project done and over with so you don't end up paying for more rental time and wasting money. It's also much easier to organize and stay on track when debris isn't lying around. Being able to remove demo or trash is a great way to clear the space and accomplish what needs to be done.
02/18/2021
For dumpster rentals, clear a path wide enough for a large truck to use so the dumpster driver can access it. Also clear around the dumpster to reduce obstacles and debris from interfering with a smooth pick up.
02/09/2021
AVOID DAMAGE TO YOUR PROPERTY BY PLACING DUMPSTERS ON CONCRETE, USING BOARDS, FOLLOWING FILL RULES AND SWEEPING UP AFTER IT LEAVES.
02/04/2021
When your project is complete or you are finished with the dumpster, contact your dumpster rental company so they can retrieve it. A dumpster service will not automatically come pick up your dumpster when your rental period is over. They will assume you need more time and schedule another rental period. To avoid this happening, it's important to remember that you need to call the dumpster service directly for dumpster pick up.
01/26/2021
What happens when you have a broken or blown light bulb? It may seem only natural to toss that bulb in your home trash can and forget all about it but some light bulbs carry harmful toxins that can destroy the environment and pose serious health risks to animals and ourselves.
01/18/2021
No matter if it's remodeling, clean outs, flood damage, demolition, yard waste, construction or more, our Burr Ridge Dumpster Rentals can handle it all. From homeowners with small home improvement projects to general contractors with large commercial gigs, we have the right solution for you. We serve the Chicagoland area so, if you aren't sure where our trusty blue dumpsters can go, just ask!
01/14/2021
Pay attention to where your debris is, or where the project is taking place, and how far you have to carry debris. Putting your dumpster too far from the site can have you carrying heavy items a long distance, which can tire you out, cause injury or waste time.
12/15/2020
With flexible scheduling, same day delivery, competitive pricing and quality equipment, you have the convenience and adaptability of a reliable dumpster rental service when and where you need it. Holiday dumpsters are the perfect way to bring a little peace to those you love and help them prepare for the new year ahead. It's time to shake 2020 off and look forward to a clean slate in 2021!
12/08/2020
Not only do we offer dumpster rentals in Burr Ridge but we serve the entire Chicagoland area. We pride ourselves on putting the customer first. No hassle, no headaches – just quality dumpsters when and where you need them. No automated systems, no bots – you speak to a live person in our office. When it comes to dumpster rentals in Burr Ridge and the surrounding areas, see for yourself why customers continue to choose us project after project.
12/04/2020
Truthfully, nothing has changed in the world of dumpster rentals. It is a true LIMITED TO NO-CONTACT service and was even before the virus ever hit. First things first, dumpster rental companies are very much open during pandemics and quarantine as they are an essential service. If you are unsure whether your waste hauler is indeed operating, drop them a call to confirm. In the Chicagoland area, Same Day Dumpsters is always in operation and ready to serve.
11/23/2020
From remodeling projects for the holidays to making space for all of the new gadgets you're about to receive, you may just need to rent a dumpster. With quick pick up and delivery, high quality equipment and a wide variety of sizes to suit your wishes, there's a reason why customers continue to use Same Day Dumpsters year after year. Our trusty blue dumpsters can handle any project, big or small, and are delivered fast – no fuss, no muss, no headaches. Give us a call today to find out how we can help you make the most of this Chicago winter!
11/18/2020
To Avoid Extra Fees Due To Added Weight Or Overfill, Cover Your Dumpster With A Tarp And Bungee Cords To Keep Out Snow And Ice Which Can Weigh Down Your Load – Thawed Or Not.
11/10/2020
Same Day Dumpsters Rental of Burr Ridge offers clean, top-quality equipment at competitive prices. With over a decade serving the Chicagoland area, our professionals have seen and overcome every obstacle to provide amazing service to our customers. We can even deliver dumpsters straight to your home or work site that same day!
02/28/2020
With ten locations serving the Chicagoland area and our new Merrillville location, we here at Same Day Dumpsters Rental deliver top quality containers to residential, commercial and industrial alike. It isn't just flooded basements and large construction companies that seek out dumpster rentals. Homeowners and businesses of all sizes and nature are coming to rely on our services for: Renovations, Clean Outs / Junk Removal, Day-To-Day Operations, Construction, Roofing, Landscaping And Much, Much More! With our same day delivery and professionally trained staff, we can have a dumpster on-site, ready to go and troubleshoot any issues to ensure the most efficiency for your project! Affordable Rates, Same Day Delivery, Various Sizes For Your Needs - Give Us A Call Today At 630.716.1030 Or Visit Us At samedaydumpsters.us To See What We Can Do For You!
02/26/2020
AVOID INJURIES WHEN USING A DUMPSTER BY ALWAYS WEARING GLOVES, TESTING THE WEIGHT OF CARRIED LOADS AND NOT TOSSING HEAVY OR BULKY ITEMS OVER THE TOP!
02/24/2020
When you rent a a dumpster, you are officially committed to finishing whatever you set about to do. Why? Because you are paying for that time and if you go over your initial rental period, you could be charged another rental fee. It's true that time is money and you need to make the most of your dumpster rental while you have it. Knowing you have money on the line keeps you motivated to fill it and get it out of there quickly.
02/19/2020
Avoid the hassle. Avoid the crowds. When you rent a dumpster in the winter, you have benefits not seen during the Spring cleaning stampede.
02/17/2020
SHOW YOUR NEIGHBORS LOVE BY CLEANING UP ANY EXCESS TRASH THAT IS BLOWING AROUND YARDS, DRIVEWAYS AND CURBS DURING BLUSTERY WINTER MONTHS!
02/13/2020
When it comes to renting a dumpster, you deserve transparency in pricing. If you follow all of the contract terms, limits and laws, there is no reason you should be charged more than what you were quoted. If you exceed weight or fill limits, damage the dumpster, carry hazardous materials or simply exceed your rental period, you will definitely be charged extra fees. Stay within your limits, mind your time and make sure you are following all terms in order to keep your rental price reasonable.
02/11/2020
WHEN SPEAKING WITH A DUMPSTER RENTAL COMPANY, DEMAND PRICE TRANSPARENCY SO YOU KNOW EXACTLY HOW MUCH THE TOTAL RENTAL WILL COST AND NOT BE SOCKED WITH UNFAIR FEES!
02/10/2020
Having a good-natured Valentine's Day party can be a ton of fun! Red, white and pink decor, a chance to celebrate positive vibes and love, laughter, food and games – you can't beat a themed party! The only thing that isn't so festive is the mess left afterwards. Who wants to wake up the next day and clean? Well, depending on the size of your party, instead of trying to cram all of the post-festive garbage into cans and bags hoping your waste management will take it all, book a small dumpster. Not only can you easily toss it all in one convenient spot but you can even tackle those other clean out projects you've been meaning to get to in one fell swoop. Talk about making the most of a situation!
02/06/2020
One of the best things you can do when using a dumpster rental in winter is to check the weather forecast and book around it. If you know snow is predicted or a storm is on the way, consider scheduling the dumpster to arrive after it has passed. Storms usually impede progress so you'll find yourself short on precious rental time. Always check the weather forecast to decide when there's an ideal time to book your dumpster.
02/05/2020
The time has come to grab the bull by the horns and finish all of those projects you've been putting off. Clean out the attic, renovate your bathroom, say goodbye to that broken cabinet so you can start 2020 with a fresh slate. Give yourself more room and less mess by renting a dumpster and getting rid of construction debris, trash, old junk, landscaping and much more! Conquer your To-Do List today so you can sit back and enjoy a relaxing, stress-free tomorrow! Call our Same Day Dumpsters crew to find out how we can help you start the new year off right!
02/04/2020
TOSSING FURNITURE INTO, OR LEAVING IT NEXT TO, A DUMPSTER THAT ISN'T YOURS IS ILLEGAL AND RESULTS IN HEFTY FINES AND/OR TRESPASSING AND LITTERING CHARGES.
02/03/2020
Same Day Dumpsters offers some of the best dumpster rental pricing in the entire Midwest. With same day delivery, a wide variety of sizes, a generous rental period and some of the best staff in the industry, you get amazing service without steep price tags. Big chains often can't budge on pricing or options offered because they have huge overhead to pay for – such as employees, corporate offices, etc., etc. – and they provide little relief to homeowners on a budget or small businesses trying to make a buck. You need a company that understands the daily struggles and becomes an ally, not a stressor.
01/29/2020
An important thing to remember when accounting for dumpster space is the size of the truck delivering it. That truck needs to be able to put the dumpster where you'd like and easily pick it up when you are finished. Do not pick a space that a dumpster can fit but the truck that drops it off can't. Dumpster trucks are larger vehicles that need an abundance of space to maneuver. Avoid corners or tight spaces. A large, open space with clear access is best.
01/22/2020
A city makes regulations concerning dumpster rentals for the safety and betterment of their community. Piles of trash sitting for long periods can attract rodents, insects or become an eyesore. It also keeps not-so-great contractors from trying to slap a project together and run out of there before code enforcement can check it. So, no, it isn't a bad thing if your city requires a permit for you to have a dumpster on your property. In the long run, it's easier to pay a permit fee than fines associated with safety issues or damages.
01/21/2020
TO PREVENT GRAFFITI ON DUMPSTERS, CREATE BARRIERS, KEEP YOUR PROPERTY WELL-LIT AND REMOVE TAGS AS SOON AS POSSIBLE.
01/20/2020
In 2012, Illinois overhauled the Electronic Products Recycling & Reuse Act to require even more items be recycled, raise the penalties for those found breaking the law and to increase the goals for manufacturers in the state. This means that companies are required to recycle 40% or more of products they sold two years prior. It also means that these companies are required to provide the public with consumer education programs and/or information on how to properly dispose of their electronic products. For the average person, it means you can't just toss e-waste into a dumpster or your garbage cans. You will be charged a $7,000 fine if caught. Instead, contact your township or city center and ask about e-waste recycling programs in your community. Also try earth911.com or EasyPak systems.
01/15/2020
Booking a dumpster allows you to heave that construction debris, old or broken junk, landscaping scrap and miscellaneous trash out of your space. With same day delivery, we can have a dumpster to you now while you have the gumption to get the job done. When you've finished with it, give us a call and we'll haul it away so you don't have to look at it ever again. Yeah – it's just that easy. Call our Same Day Dumpsters crew to find out how we can help you start the new year off right!
01/14/2020
WHEN CHOOSING A DUMPSTER RENTAL COMPANY, BEWARE OF RED FLAGS SUCH AS POOR COMMUNICATION AND DIRTY EQUIPMENT!
01/13/2020
Whether you are creating a clean or mixed load, take caution to follow the fill lines and limits on your dumpster. Each dumpster is marked with a clear fill line – the line you should not stack debris higher than – and a weight limit – the total weight your load is allowed to be. These precautions exist to keep everyone safe. Going over these limits will put the dumpster driver at risk of injury as well as potentially cause accidents on the roadways or damage to the equipment. Usually, if your load exceeds these levels, a dumpster driver has no choice but to leave the dumpster where it is until you can rectify the issue. This can result in extra transportation fees, rental fees or contract violations.
01/09/2020
Donate or sell your items first. You can make some money and may get rid of so many items that you end up needing a smaller dumpster. Yard sales, Craigslist, LetGo and Salvation Army are things to consider. Check online for discounts and promotions. It never hurts to ask the dumpster company directly if they can offer you a discount of some kind.
01/08/2020
Don't think you can fill a dumpster on your own? Want to save money on renting a container? Another wonderful way to reduce clutter, save money and bond better with your neighbors is to organize an event for your block. Talk with neighbors and see who would like to go in on a dumpster with you to get rid of junk. If you have several people willing to go in on one with you, what ends up coming out of your pocket is drastically reduced.
01/07/2020
INSTEAD OF TOSSING OUT THOSE OLD, FADED OR BROKEN CHRISTMAS LIGHTS, CONTACT YOUR VILLAGE OR TOWN ABOUT RECYCLING PROGRAMS FOR THEM!
01/06/2020
As a new year unfolds, we are often excited to tackle projects that we may have put on the back burner for a quite awhile. From attic, basement and garage clean outs to updating that kitchen or bathroom, it's the perfect time to embrace change and kick clutter to the curb. Same Day Dumpsters offers a wide variety of dumpster sizes with some of the most affordable rates in the entire region. With same day delivery and experienced dumpster pros equipped to overcome obstacles, our priority is, and will always be, customer service. No matter how many locations we expand to, the service is never sacrificed.
01/02/2020
Make sure what you put into the dumpster doesn't weigh more than that container is allowed to carry safely. Just because you can fit all of your debris inside doesn't mean that you should. Some items or materials, such as stone, concrete, etc., are quite heavy and will reach the weigh limit faster. Going over this limit will result in extra fees. To help avoid this, discuss your project with the rental company. They can advise you on the best dumpster size for your needs.
12/31/2019
The sun has set on a whole year but it is about to rise on a brand new one. Same Day Dumpsters is excited to explore the new opportunities that 2020 has planned for us, including a major service area expansion. While embracing the new is always an adventure, we will still be delivering the same quality products at reasonable rates that our clients have come to expect. With same day delivery, amazing support staff ready to tackle any obstacle and a wide variety of dumpster options to choose from, helping your project finish successfully is our priority. Contact us today to see what one of our trusty blue dumpsters can do for you!
12/30/2019
A super easy way to reduce the amount of trash you output in the New Year is to stop using disposable products. Try using alternatives to spread some green cheer this year!
12/24/2019
While it is the season of joy, magic, glad tidings, prosperity, health, love and good cheer, we wish you such bounty throughout the year. From everyone at Same Day Dumpsters, we hope you have a wonderful holiday and find endless opportunity in your new year!
12/19/2019
Throughout the year, collect things such as the brown packing paper that mail packages come in, string, ribbons, etc. You can draw or paint designs on the paper to liven it up or even paste old photographs on it. By taking a few minutes to create something from your heart, the recipient will derive joy, not just from the gift, but from the time you spent making it special for them.
12/18/2019
Any sweet tins, glass jars or bottles that are at your party or given as gifts can be reused year round as storage containers. Over 20 million waste batteries are lying about on Christmas so opt for rechargeable instead. You'll get much better use out of them and be helping the environment at the same time. There are programs that recycle old batteries so contact your town hall, library or other community centers to inquire about programs that do so. You can also cut the pictures off of holiday cards you receive and make them into postcards for next season. If you want to go truly green, send e-cards instead of paper. Even implementing a few simple tips can make big changes to the environment and save you money in the long run. What is more important is that instead of generic gifts that might end up in the trash, you can give more thoughtful, heartwarming items that leave lasting impressions on the recipients. Green or not, enjoy your holiday season to the fullest!
12/17/2019
TAKE CARE IN HOW YOU DISPOSE OF THOSE HOLIDAY GIFT BOXES BY BREAKING THEM DOWN AND STASHING AT THE BOTTOM OF TRASH CANS OTHERWISE YOU MIGHT BE MAKING A SHOPPING LIST FOR THIEVES.
12/16/2019
Same Day Dumpsters has opened a ninth location to meet the demand for affordable, high-quality dumpsters in the Chicagoland area. We are proud to consider Frankfort, Illinois a new dumpster rental base!
12/12/2019
At Same Day Dumpsters, our professionals are available to answer your questions and help determine the best dumpster to complete your job. From weight limits, material restrictions, same day delivery options and much, much more, there is an abundance of opportunities to customize your dumpster rental experience. What can you toss into it? Is your dumpster big enough to handle your kitchen renovation? We can give you solutions and provide you with all the information that you seek. All you have to do is ask. Same Day Dumpsters is available via telephone or you can chat with a representative right on our site. We're waiting to assist you with all of your dumpster rental needs.
12/11/2019
Chop up your Christmas tree for firewood. Don't burn it inside unless you dry it out for several months in a shed or covered structure otherwise the sap can stick to your chimney and catch fire.
12/10/2019
PLACE A CHRISTMAS TREE BAG UNDER YOUR TREE SKIRT BEFORE THE HOLIDAYS SO YOU CAN EASILY CATCH NEEDLES AND SWIFTLY BAG IT UP WHEN IT'S CLEARED AFTER THE SEASON.
12/09/2019
Whether you have a large home improvement project or simply need to clean out your office, you can rely on your own hometown dumpster rental!
11/25/2019
Some families enjoy decorating for turkey day. Whether classy or goofy, try to use natural decorations instead of disposable ones. For instance, pinecones and pumpkins are big staples of Harvest season and look cute in self-made arrangements. The best part? They are biodegradable when you get rid of them! You can also use scrap materials from around your home and have the kids make Thanksgiving crafts to add a cute and fun spin to your decor.
11/21/2019
We only book appointments by phone. If you have any questions, feel free to call one of our offices, browse our website or contact one of our representatives via live chat. When it comes to scheduling / booking a dumpster, we ONLY do that by phone.
11/19/2019
REDUCE THE FOOD WASTE AT THANKSGIVING BY NOT TRASHING THE SCRAPS, TRANSFORMING EXTRAS INTO READY MADE MEALS AND COMPOSTING FOOD AND OIL WASTE.
11/18/2019
We appreciate all of our customers and the unique projects we can assist them on. Whether it's a standard bathroom renovation or an emergency situation like a flooding basement, we want you to know that we have your back. With skilled professionals ready to handle any on-site obstacles to ensure the most successful use of your dumpster, affordable rates, speedy same day delivery and an ample inventory of container sizes, we can handle anything you throw at us and help take some of the stress off your shoulders.
11/14/2019
Clear a path around your cans so garbage collectors and trucks can access them easily. Put salt or deicer around your trash, curb and cans so both you and the garbage collector don't fall.
11/13/2019
How many of us are guilty of this? When batteries are kaput, whether they are AA, C, button cell – whatever, we toss them into the trash where they eventually meet their fate through an incinerator or landfill. Sadly, they are chock-full of cadmium, mercury and lead so when they're casing is pierced or disintegrated, those chemicals leak and wreak havoc. To keep those chemicals out of our water and land, you need to recycle them through the proper channels. The chemicals can be recycled and put to use in new batteries.
11/12/2019
FOR SAFE PICK UP OF DUMPSTERS, CLEAR SNOW FROM AROUND AND IN FRONT OF CONTAINERS OR CORRAL DOORS AND PUT DOWN SALT TO PREVENT DRIVERS FROM FALLING AND GETTING HURT!
11/11/2019
Same Day Dumpsters would like to honor all those who served in the Armed Forces – living and deceased – and offer our warmest and most humble gratitude for the sacrifices they made.
11/07/2019
From the smallest mom and pop shops and neighborhood staples to large franchises and niche boutiques, we work with all business types and provide the same great service that Chicagoland has come to rely on. With 5, 10, 15, 20 and 30 yard dumpster rentals available, our staff can help you determine the most efficient size for your project. All of our dumpsters come with a generous 10 day rental period at any of our locations: Burr Ridge, Mokena, Elk Grove Village, Hickory Hills, Lemont, Bolingbrook, Naperville and Schaumburg. Find out how we can help YOUR business today!
11/06/2019
Whether you decide to handle it yourself or you outsource the work, make sure the debris is properly contained. For smaller yards that don't need much to maintain, you can probably fit your debris into the yard waste bins provided by your waste management company. With bigger yards or prep that requires large trees and bushes to be removed or trimmed, rent a small dumpster for disposal. Once you fill the dumpster, simply place a call to the dumpster rental company and they will pick up the dumpster and dispose of your landscaping waste for you. They can even handle materials such as dirt, sand, rocks and other debris you might accumulate during a winter prep session.
11/05/2019
MAKE SURE THE DEBRIS WEIGHT IS EVEN THROUGHOUT THE LOAD OTHERWISE THE LOAD CAN BECOME UNSTABLE AND MORE LIKELY TO TURN OVER ON THE ROAD.
11/04/2019
At Same Day Dumpsters, your family is our family. Each and every one of our customers is top priority and we strive to provide an amazing experience while supplying the best solutions possible for their project. Reliable, Affordable, Quality – these are the backbone of our service and what we deliver every time. Whether you are hiring our service for yourself or providing it for your loved ones, you can depend on us to treat them with the very best care.
10/31/2019
When it's time to clean up after those Halloween parties or if you need to start making room for guests during the upcoming holidays, consider renting a trusty blue dumpster. With a variety of sizes and the most affordable prices in Chicagoland, Same Day Dumpsters has 8 locations that provide same day delivery for all of your project and scheduling needs. Give us a call today to see what we can do for you!
10/29/2019
WHEN DECIDING WHAT TO STORE, MAKE CHOICES BASED ON WHAT SEASON IT IS, THE DECOR OF YOUR HOME AND A ROTATION OF TOYS AND COLLECTIBLES.
10/28/2019
Every dumpster has clearly marked fill lines. Never exceed these lines and you will reduce the strain on your driveway. Overfilling can cause damage and even make it hard to haul the dumpster away.
10/24/2019
In America, the word dumpster is a mix of the name of the men who created modern dumpster rentals and the word "dump." In 1935, the Dempster brothers created a new waste disposal system where containers could be loaded onto the back of garbage trucks and trademarked the name dumpster. It caught on like wildfire and this is what Americans have come to call the container that hauls off massive loads of trash and debris. This also explains why other countries may not refer to it as such – it's an American brand name for a specific design.
10/21/2019
At Same Day Dumpsters, our highest priority is our customers. We know how hectic schedules can get and how important deadlines truly are and strive to ensure quick, reliable service to the Chicagoland area. This is why we expanded to 8 convenient locations – to access our customers quickly, efficiently and be able to provide a variety of dumpster sizes for any residential, commercial or industrial project. Our dedicated, experienced staff is laser-focused on providing solutions for all of your dumpster rental needs and showing up when and where you need us.
10/17/2019
With 8 convenient locations, Same Day Dumpsters offers portable storage options near you. We provide quality, secure, steel storage containers to your property with same day delivery. Each of our dumpster rental locations is proud to offer portable storage solutions to all of the Chicagoland area. Our staff are experienced storage providers who can help you determine the best solutions for your dumpster and storage needs.
10/16/2019
PUMPKINS Eat: Everything on a pumpkin is edible so roast the seeds or use the flesh to puree into pies, sauces, soups and other snacks. Seeds: You can plant the seeds and grow your own pumpkins for next year. Compost: Put discarded pumpkin in a sunny corner of your yard, slice them up and cover them with leaves. Host a neighborhood compost party where families can smash their pumpkins and have music, treats and warm drinks. Recycling: Ask your village about pumpkin recycling programs.
10/15/2019
STORE YOUR WEDDING DRESS IN A COOL, DARK PLACE INSIDE OF A PRESERVATION BOX OR ACID-FREE CHEST TO PREVENT AGING, DISCOLORATION AND MORE.
10/14/2019
By safely transporting and storing your appliances, they can last much longer and be of use in the future. Following these quick tips only takes a few moments and are worth saving you from having to buy a whole new appliance or replacing other personal items damaged by one that is improperly stored. Protecting your appliances – new or old – is an investment that is priceless.
10/09/2019
Our Schaumburg storage containers are an affordable, reliable solution for short-term or long-term rentals. With skilled professionals ready to answer your questions and help determine the best storage option for you, we take the stress off of your shoulders. Proudly serving the Schaumburg and Chicagoland area, Same Day Dumpsters is ready to help!
10/08/2019
WHILE NIGHT FALLS FASTER AND VISITORS COME KNOCKING, LIGHT UP YOUR PATH WITH LED AND USE A BROOM TO CLEAR LEAVES INSTEAD OF A HOSE.
10/07/2019
TRICK-OR-TREATING --- Reduce emissions by walking, biking or carpooling to favorite trick or treating spots. Avoid purchasing plastic trick or treat bags. You can use backpacks, totes, paper bags or even pillowcases for an inexpensive and eco-friendly way to haul your treasures. If you like the idea of a Halloween themed candy bag, there are so many cloth totes available for purchase or talented folks who craft them and sell on Etsy, Craigslist, Amazon, etc. Be sure to bring an extra bag to pick up trash, candy wrappers, etc. so they aren't being littered onto the street. When it comes to handing out candy, consider Hershey Kisses (they are wrapped in recyclable aluminum), cans of soda, paperless crayons or even mint tins that can be reused or recycled.
10/03/2019
Our pals at Burr Ridge dumpster rental have provided us with this amazing guide on how to beef up your on-site portable storage security. Utilizing simple, effective methods and various tools you already have around you, thieves will think twice about trying to bust into your storage container!
10/01/2019
WHEN MOVING AND STORING ALL OF YOUR BELONGINGS, BE SURE TO PACK A SMALL SUITCASE OR WEEKENDER BAG WITH DAILY LIVING ESSENTIALS.
09/30/2019
Our dumpsters end up accomplishing so many different tasks all over the Chicagoland area and we are always excited to hear what they've been up to. Don't forget to give our drivers a wave when you see one of our trusty blue dumpsters on its way to a new adventure!
09/24/2019
IF STORING ITEMS FOR MORE THAN SEVERAL MONTHS, ALWAYS REMOVE ANY BATTERIES FOUND IN THEM TO REDUCE RISK OF BATTERY LEAKAGE.
09/23/2019
We provide clean, durable storage containers at the most cost-efficient pricing around. Serving the Chicagoland area, our 47 yard metal containers are perfect for all of your moving, seasonal, residential, business, industrial, construction or simply extra storage needs. With amazing same day service and experienced professionals handling all of your questions and concerns, we can help you determine if our storage options are the best for your project. Don't hesitate – the solution to your portable storage problem is within reach!
09/18/2019
Not every city permits a portable storage container to be placed on the street. Some require that it stay on your lawn or in your driveway. Before booking a storage rental, contact your village, town or city hall and ask if you need a permit for your unit, where it can be placed and any other rules you may need to follow. You may be asked to speak with the Public Works department or the Code Enforcement division. This is important to know so you can follow the guidelines and not be charged any penalties.
09/17/2019
WHEN STORING IN A FACILITY OR CONTAINER THAT HAS A FIRE SPRINKLER SYSTEM, IT MAY BE BETTER TO STORE EVERYTHING IN PLASTIC BINS OVER CARDBOARD.
09/16/2019
Find out if your homeowner's or renter's insurance covers personal property left in storage. If not, it should be possible to add it on or purchase a separate plan through your insurance company. Many storage companies offer insurance plans as well. This is great to have in case something out of the ordinary happens.
09/11/2019
When it comes to storage solutions, it can be hard to choose what might be the best option for you and your project needs. With portable storage varieties and numerous storage rental facilities, what you pick will be based on what works best for your budget, time and comfort level.
09/10/2019
Focus Your Decluttering On Your Storage Areas First.  These Are The First Line Of Defense For Home Organization And Should Be Easy To Access, Sorted And Junk-Free.
09/09/2019
Demand is growing and so are we! With our newest company expansions and high demand in the Chicagoland area, our dumpsters are flying off the truck! In order to continue providing the same great customer service that our clients have come to expect, we need to expand our Same Day family once again.
09/04/2019
Portable storage in Bolingbrook can be a life-saver based on your unique circumstance. Whether you are downsizing, remodeling, storing excess inventory or staging a home, having a little extra space to work with is always appreciated. Not only does it keep you more organized but helps keep you from being overwhelmed by mess crammed into one spot.
09/03/2019
WHEN PACKING YOUR STORAGE CONTAINER OR STORAGE UNIT, PLACE HEAVIER BOXES ON THE BOTTOM, ADD WOODEN PALLETS TO ADD AIR CIRCULATION AND USE SMALLER ITEMS TO FILL IN ODD SPACE GAPS.
08/29/2019
Reliable, swift service should NOT come at the expense of great care, which is why we make our customers a priority and strive to meet and exceed their expectations!
08/28/2019
Be sure to place your container on a level, firm surface and in a well-lit area. If you are able, make sure you can see the entry into the container clearly from your home or office window. There are so many projects or needs that a portable storage rental can help alleviate and we only highlighted a few of the major ones. Do not be discouraged if you don't see your dilemma on this list, contact your same day storage rental company and ask. Not only can they help you determine the right size container needed for your project but they can thoroughly address any concerns you might have.
08/27/2019
STORAGE CONTAINERS ARE IDEAL THEFT-DETERRENTS BUT YOU CAN INCREASE THAT BY PARKING IT IN A WELL-LIT AREA, BLOCKING ACCESS WHEN NOT IN USE AND HAVING A SECURE LOCKING MECHANISM.
08/26/2019
Whether you need a long-term solution or quick fix, storage rentals in Mokena can provide the perfect space-saving option for your prized possessions!
08/22/2019
One of the best and most efficient ways to prevent cracks, scuffs, gouges and general damage from your brick, asphalt or concrete driveway is to use wood. Placing pieces of plywood or 2′ by 6′ boards between the points where dumpster meets driveway is crucial to curbing property damage. The boards act as a cushion between the materials and keep your driveway safe.
08/21/2019
Same Day Dumpsters offers 47 yard portable storage solutions for an affordable price. With so many uses for these storage options in today's world, you need a company that can provide high-quality containers and exceptional customer service without breaking the bank. Give us a call to see what our new storage containers can do for you!
08/20/2019
BEFORE YOU RENT A STORAGE CONTAINER, CHECK WITH YOUR LOCAL AUTHORITIES TO FIND OUT IF YOU NEED A TEMPORARY USE PERMIT. YOU MAY NOT NEED ONE AT ALL BUT MANY RESIDENTIAL AREAS HAVE STRICT REQUIREMENTS FOR PORTABLE STORAGE!
08/19/2019
At Same Day Dumpsters, we believe in stress-free solutions. Our professionals not only deliver our high-quality and super clean dumpsters where you need them but troubleshoot any obstacles that may pop up while on site. Unlike other companies who need their dumpsters back fast in order to supply other customers, we make sure each customer has more than enough time to take care of their debris removal needs with our ample 10 day rental periods. No pestering you to finish faster, just great products delivered when you need them.
08/15/2019
Odors draw infestations. If your bin is dirty, spray it out with a hose and then spray with a concoction of water and white vinegar. Get the inside, outside, rim, lid and wheels and let sit for 15 minutes before wiping or spraying down. Kitty litter dries up liquids and baking soda absorbs smells so feel free to pour a cup or two onto the bottom of your garbage can.
08/14/2019
SAME DAY DUMPSTERS IS PROUD TO ANNOUNCE A NEW PRODUCT…THE 47 YARD STORAGE CONTAINER! Our storage containers are the perfect size for all of your residential, commercial or retail needs. No longer do you have to pay for pricey warehouse space or be confined to short rental periods, our storage containers are yours for as long as you need. At $125 per month, you have an affordable, reliable option for whatever length of time you desire. We deliver the container to your driveway, parking lot or property, you fill it and keep it as long as you need. When you are ready to have it picked up, give us a ring and we'll come take it back. Always clean and fresh, our storage container is made from the the highest quality metals and materials for the most dependable and secure option.
08/13/2019
WHILE IT MAY SEEM SAFE TO TOSS ALL PAPER PRODUCTS, SOME OF THEM DO MORE HARM THAN GOOD FOR OUR ENVIRONMENT. COATED PAPER, STYROFOAM, DISPOSABLE DIAPERS, FOOD WRAPPERS OR FOOD PAPER PRODUCTS CAN NOT BE TOSSED IN REGULAR RECYCLING.
08/08/2019
We are looking for a qualified roll off driver to join the Same Day Dumpster family!
08/06/2019
TO DETER RACCOONS FROM INVADING YOUR PROPERTY, SPRINKLE AMMONIA ON YOUR TRASH BAG, STRING BLINKING CHRISTMAS LIGHTS AND LEAVE THEM ON ALL NIGHT OR STRETCH A BUNGEE CORD TIGHTLY OVER THE LID!
08/05/2019
Pool chemicals are used to keep our pools clean and refreshing. However, if they are discarded improperly, these chemicals can spontaneously combust and cause a massive fire. This can cause severe damage to trucks and facilities as well as become a deadly situation for waste disposal workers. Donate used or unneeded supplies to other pool owners, a local pool or pool companies. You can even call your community waste management and ask about special programs they offer or take the chemicals to a hazardous waste facility.
07/30/2019
SUMMER FUN LEAVES US WITH PROPANE TANKS, POOL CHEMICALS AND LITHIUM ION BATTERIES. DON'T PUT THESE ITEMS IN YOUR REGULAR TRASH, RECYCLING OR DUMPSTER RENTAL BECAUSE THEY CAN CAUSE FIRE.
07/29/2019
Whether it's recycling items, dirt and leaves from landscaping projects or general trash clean up of a party or geographic area, there can be many uses in your own neighborhood as well as in the community at large for a shared dumpster rental. If you have particular recycling materials that need to go to a special facility, arrange it with your dumpster rental company before you book to ensure that the items are disposed of responsibly.
07/09/2019
TO ELIMINATE FLIES FROM SWARMING AROUND YOUR TRASH BIN OR DUMPSTER, MAKE SURE ALL TRASH IS REMOVED AND THEN SPRAY THE ENTIRE CAN WITH EQUAL AMOUNTS TAP WATER AND WHITE VINEGAR.
07/05/2019
If you have a small dumpster, the walls are so short that you can easily place debris in over the top. For larger dumpsters, there are hinged doors on the back that allow you to walk debris inside. This saves your back and muscles from having to strain and get heavy materials over an impossibly high wall.
04/18/2019
If your dumpster doesn't have a hinged door and you can't seem to reach over the top of the wall, consider buying a step ladder or creating steps using solid, durable items like concrete blocks!
04/12/2019
Break down small debris to save space in your dumpster. Put cardboard or styrofoam on the very bottom because they can smash down and free up more space.
03/05/2019
NO SMOKING NEAR DUMPSTERS! THEY MAY CONTAIN FLAMMABLES SUCH AS WOOD, PAPER OR HAZARDOUS MATERIALS!
02/27/2019
PREVENT DUMPSTERS FROM SLIPPING DOWN ICY SLOPES BY SPRINKLING ROCK SALT, KITTY LITTER OR SAND. YOU CAN ALSO USE PROTECTIVE BOARDS ON YOUR SURFACE.
02/20/2019
MAKE SURE YOUR DUMPSTER IS IN WORKING CONDITION! LOOSE HINGES, BROKEN SECTIONS OR RUSTED PARTS CAN POSE A HUGE SAFETY RISK – NOTIFY YOUR DUMPSTER RENTAL COMPANY IMMEDIATELY.
02/15/2019
SAME DAY DUMPSTERS IS NOW IN BOLINGBROOK! Earlier this month, Same Day Dumpsters offered a sixth location in the Chicagoland area. The idea was to ensure a variety of product and the flexibility to be able to serve the surrounding suburbs with superhero swiftness and efficiency. The new location would better serve the surrounding cities such as Naperville, Woodridge, Plainfield, Romeoville, Lockport, Lisle, Warrenville, Wheaton, Downer's Grove, Homer Glen, New Lenox and Orland Park areas.
02/05/2019
SAME DAY DUMPSTERS IS PROUD TO ANNOUNCE A NEW PRODUCT TO OUR LINEUP… 30 YARD DUMPSTER RENTALS! Whether you need a residential, commercial or industrial dumpster rental, our new 30 yard dumpster can handle all of your bigger projects. Call today to find out more information about how our new dumpster rental size can assist you!
01/29/2019
WHEN YOU CHOOSE A DUMPSTER RENTAL SERVICE, MAKE SURE THEY EXPLAIN THEIR RULES FOR WHAT CAN GO IN A DUMPSTER AND ANY WEIGHT OR OVERFILL LIMITS! IF YOU VIOLATE THESE, YOU COULD BE FACING HUGE PENALTY FEES.
01/23/2019
Flat Fee Dumpster Rentals Are Usually Better Because You Are Charged One Standard Rate Up Front Instead Of Being Charged By Waste Weight And Other Factors At The End!
01/03/2019
While it may be tempting to simply toss your old fridges, freezers or air conditioning units into a bin or dumpster, the repercussions of such an action can be fatal. Between the harmful effects on the environment and the devastation it can wreak on the human body, these hazardous materials absolutely MUST be disposed of responsibly. In most cases all it takes is one phone call from you and another individual or organization will do the heavy lifting and take the old appliance off of your hands.
01/02/2019
HOW TO CHOOSE THE RIGHT COMPANY: HOW LONG CAN YOU KEEP YOUR DUMPSTER? This can potentially have two answers. First and foremost is how long your dumpster rental company is allowing you for your rental period. They should tell you the length of your rental and when you need to consider scheduling your pick up. Second, you should find out from your village or township if they have any limitations on how long a dumpster can be on your property. They may have a much shorter time frame for you to be allowed to use your dumpster. Call your village hall or township office for more details.
12/31/2018
HOW TO CHOOSE THE RIGHT COMPANY: WHAT CAN YOU PUT IN THAT DUMPSTER? Believe it or not, there is a list of prohibited items that can not be discarded into a dumpster rental. Some dumpster rental companies will take certain items for an extra fee or may make an exception on something. ALWAYS ASK. They can give you more information on what they might take and can provide you with a complete list of prohibited materials.
12/27/2018
HOW TO CHOOSE THE RIGHT COMPANY: WHAT ABOUT EXTRA FEES AND SCHEDULING A PICK UP? A reputable dumpster rental company should inform you of any extra fees you may be liable for up front. These fees only happen if certain violations occur. Typical Extra Fees: Hazardous Materials – If you put prohibited items into the dumpster such as oils, paints, car batteries, etc. Overfill – If you exceed your dumpster's weight limit or leave piles of trash around the dumpster that the driver has to load. Extension / Late – If you go beyond your rental period. Trip Charge – If the driver can not pick up the dumpster due to some sort of obstruction. Also known as a "wasted trip". As far as pick ups, many companies require you to call them and schedule the dumpster to be picked up when you are finished. Some people assume the company will automatically come at the end of their rental period and pick it up. This is often NOT the case and they end up being charged late fees. ALWAYS ask the company prior to starting your rental so you know if scheduling a pick up is your responsibility.
12/26/2018
HOW TO CHOOSE THE RIGHT COMPANY: DO THEY CHARGE A FLAT FEE? Some companies charge by the ton, which is called Variable Rate pricing. In this circumstance, you don't know the total until the dumpster is hauled away and the final bill comes. The advantage to this pricing is if you know exactly how much debris you will have. In some circumstances, this ends up to be a cheaper option. Flat Fee pricing is when you are charged one standard fee for the rental and pick up. The advantage to this is that you know the total you will pay beforehand and can adjust your project budget to account for it. By not overfilling your dumpster and staying well within the posted lines and limits printed on your dumpster, you can save even more money. Most people prefer Flat Fee pricing.
12/19/2018
HOW TO CHOOSE THE RIGHT COMPANY: ARE YOU ABLE TO COMMUNICATE WITH THEM? Establishing a simple line of communication and having great customer service are crucial when renting a dumpster because projects can turn out differently or have variables in play. Having a company that is willing to work with you and make sure all unexpected events are accounted for or handled well make all the difference. Are you able to reach them on the phone? Do they answer your questions promptly and with confidence? Do they keep their promises of delivery times? Do they follow up with you if they need to find out an answer? Are their locations easily accessible? There may be things you can't experience until you work with them but, in the meantime, you can scroll reviews or customer testimonials online. Don't be afraid to ask every question you can until you are comfortable. You are the one spending the money. A good dumpster rental company has no problem addressing any and all concerns and with making sure you are completely confident in your decision.
12/17/2018
HOW TO CHOOSE THE RIGHT COMPANY: WHAT IS THEIR AVAILABILITY? If the dumpster rental company keeps suggesting a 30 yard dumpster for your small landscaping job, they may have run out of product or only specialize in renting large dumpsters. This applies not only to their dumpsters but to the company as well. Can you never reach them or do they never seem to be open when you need them? This is a huge factor to consider if you have an emergency and need assistance immediately or are facing time limits. A well-established company will likely have plenty of resources available to its customers and be ready when you need them.
12/14/2018
HOW TO CHOOSE THE RIGHT COMPANY: DO THEY HAVE A VARIETY OF PRODUCTS? Some dumpster rental companies only deal with large construction projects and only offer 40 yard dumpsters. If the information for dumpster sizes is not on their website or in their marketing literature, just ask them. Ideally you want to work with a company that can offer you 3 or 4 different sizes in dumpsters so you know that, no matter what kind of project you work on or if your project ends up becoming bigger than you expected, they will have a dumpster for what you need. If you end up calling to ask them, you also have an opportunity to hear how professional they are and how they treat their clients.
12/10/2018
HOW TO CHOOSE THE RIGHT COMPANY: ARE THEY PROFESSIONAL? How do the business and employees conduct themselves? Are they courteous, polite and willing to answer your questions? How a company and its representatives treat YOU is a huge indicator of what experience you will have working with them. Whether on the phone or in person, you want them to take your project or emergency seriously, be informative and thoroughly answer your questions.
12/05/2018
HOW LONG CAN YOU KEEP YOUR DUMPSTER? This can potentially have two answers. First and foremost is how long your dumpster rental company is allowing you for your rental period. They should tell you the length of your rental and when you need to consider scheduling your pick up. Second, you should find out from your village or township if they have any limitations on how long a dumpster can be on your property. They may have a much shorter time frame for you to be allowed to use your dumpster. Call your village hall or township office for more details.
11/26/2018
5 REASONS YOU SHOULD RENT A DUMPSTER IN WINTER 1. Availability – Most folks wait until nice weather to rent so you will have nearly unlimited availability when you are ready to start your project. 2. Protection – To prevent the dumpster from slipping on icy driveways or moving unsafely, plywood barriers and blocks are put down for added protection. 3. Tarp It – Many people assume that it's impossible to work on projects during the winter because your dumpster rental can fill with snow. By putting a tarp over the top you can prevent anything but debris from filling your dumpster. 4. Clear The Way – When disposing of debris, make sure the path you take to the dumpster is free of snow. Salt this path so you decrease the likelihood of falls and can access your dumpster rental safely. By doing this you eliminate the reasons why many folks are not likely to rent dumpsters in the winter months. 5. The Pony Express – Bad weather RARELY hinders your local dumpster rental service from dropping off or picking up your dumpster. It would have to be a natural disaster or emergency situation that would hinder your dumpster from arriving at it's location.
11/21/2018
Why Do You Need A Dumpster? - ONE - Remodeling or Renovations – If that 1963 avocado green wallpaper in your kitchen or your shag carpeting from the height of disco are starting to grate on your nerves, you might be in need of an upgrade. Whether you decide to upgrade your fixtures or you do an entire room remodel with new drywall and flooring, you will need to dispose of those items in a small dumpster.
11/20/2018
Why Do You Need A Dumpster? - TWO - Flooding / Emergencies – If your basement floods during torrential storms, your water heater explodes or you end up with a leaking roof, you might find yourself with damaged drywall and personal items. You may need to eliminate water-logged and ruined materials to prevent mold and bacteria from forming. In these cases, it is best to rent a dumpster so those potential hazards can be removed and disposed of quickly and efficiently.
11/19/2018
Why Do You Need A Dumpster? - THREE - Natural Disasters – Whether it's a downed tree due to storms or siding destroyed by hail damage, you may need to remove unexpected debris from your property. These types of projects are too large for the average waste management company and require a dumpster.
11/15/2018
Why Do You Need A Dumpster? - FOUR - Landscaping – When your house looks amazing but the gnarled shrubs and dead trees on your property do not, you might want to completely change your landscaping. It's not feasible to put all of those twigs, stones, branches and dirt inside your vehicle for removal and waste management will not take dirt or large piles of landscaping debris.
11/13/2018
Why Do You Need A Dumpster? - FIVE - Prohibited Items - It has been mentioned several times already but your local garbage company can not take just anything. There are quite a few items that they won't haul away for you. In those circumstances, a dumpster can carry all of your debris and most all types of materials.
11/09/2018
Why Do You Need A Dumpster? SIX - Office Clean Out – Keeping a safe, happy environment for your employees also increases productivity. If your space is cluttered or in need of new equipment and furniture, you can dispose of all those materials in a dumpster rental. Filing cabinets, boxes of old files, furniture, fixtures, garbage and junk can all be hauled away.
11/08/2018
Why Do You Need A Dumpster? SEVEN - Spring Cleaning / Junk Removal – You may have a tenant that left your property a mess or realize that your attic or garage are packed solid with junk. Spring cleaning and cleaning up rental property are dreaded tasks but being able to eliminate multiple trips to the dump, thrift store or recycling facility can help alleviate that stress. Your local dumpster rental company can even take a container full of recyclables to the appropriate facility if you ask in advance.
11/07/2018
Why Do You Need A Dumpster? EIGHT - Moving – Anyone that has moved knows the stress of packing up your entire life and shifting it to another location. You have lived and collected items on this journey of existence. Sometimes a move can be made easier by going through all of those old, unused items, getting rid of them and lightening the load.
11/06/2018
Why Do You Need A Dumpster? NINE - New Additions / Guests – If you have out of town guests coming in or a kid moving back home and you haven't seen the floor of that guest room in months, you may want to consider a mass clean out. A new bundle of joy may also cause you to clear a space or consider baby-proofing the entire house. If you can't store large, hazardous items or donate them, you may want to eliminate them completely before the baby comes.
11/02/2018
Why Do You Need A Dumpster? TEN - Events / Parties - If you throw the biggest shindig on the block every year or you decide to host a community event, consider renting a dumpster. This helps tremendously in post-event clean up. It makes it easier on volunteers and keeps the space free of debris or discarded booth materials and decorations. You might even consider throwing a recycling event in your neighborhood and giving families the opportunity to clear space in their homes and help out the environment. Your dumpster rental company can take the loaded container to an appropriate recycling center.
10/24/2018
With fast delivery, a variety of dumpster sizes, clean equipment, the utmost care and protection for you and your materials, Same Day Dumpsters has everything you need for your next dumpster rental. With locations in Burr Ridge, Mokena and Elk Grove Village, we are able to access the Chicagoland area quickly and efficiently.
10/03/2018
Need a Dumpster Today in the Oak Lawn area? Give us a call - We Serve The Oak Lawn area!
10/02/2018
How Do I Know The Right Size Dumpster For Me? 10 Yrd. - Think a small room renovation like a bathroom or tiny kitchen remodel, a basement/garage clean out or a 15 square roofing job. 15 Yrd. - Think of average renovation jobs, installing new kitchen cabinets, several room clean out, removing a tree and various concrete jobs such as removing a paver patio or repairing a sidewalk. 20 Yrd. - The most popular size for most projects. Full room remodels, whole house clean outs, most roofing jobs (25 -30 squares), deck removals, floor removals and big landscaping jobs. By using our reliable dumpster rental service we can help determine the appropriate size container for your project needs.