Mobile Billboard 🏆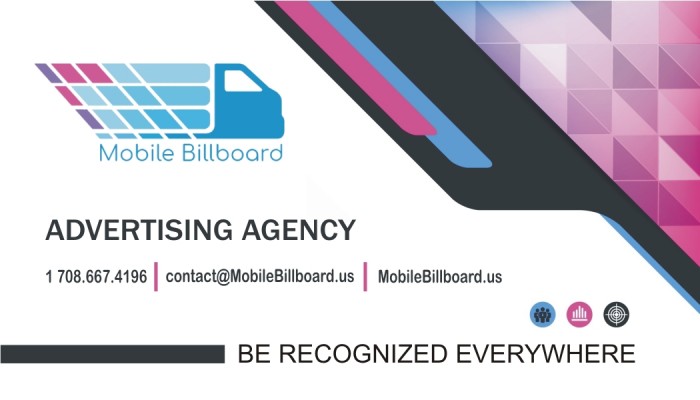 call now
BRAND RECOGNITION AND IDENTITY -We effectively present and perpetuate the brand of every business. We reach every group of clients with an advertisement not only through images but also through sound and smell. Subconsciously, we affect the senses of these recipients to propel the brand. INNOVATIVE METHODS IN BUSINESS PROMOTE - We apply creative and innovative solutions that attract customer attention. Our mobile billboards can be seen, heard or the consumer can even smell them, which makes every billboard permanently remembered by the viewer. PREPARATION, PERFORMANCE AND DEVELOPMENT - We prepare custom mobile billboard projects that actually reach recipients. We track mobile billboard recipients in real time. We support the business development of our customers.
222 W Merchandise Mart
Chicago
IL 60654
United States
3127610164
English, Polish
News
12/10/2020
Mobile billboard advertising is extremely flexible – you can change routes, target locations or even your message based on the data you collect as the campaign is underway. Most marketing is pre-set and needs to be run until the end or simply can't be altered quickly. Mobile billboards doesn't have such restrictions and is one of the most adaptable forms of marketing available today.
11/02/2020
WHEN HIRING A MOBILE BILLBOARD SERVICE, FIND OUT IF THEY HAVE A STRATEGY, IDEAS FOR CAMPAIGNS AND IF THEY HAVE REFERENCES!
10/29/2020
With Mobile Billboard of Palos Hills, we offer truck, trailer and digital ads with additional options for scent, sound, 3-D and more. Not only are we competitively priced but our marketing experts can form an effective strategy, design your ad and even track analytics in real time. YOU control the campaign and we execute proven methods to make your advertising goals come to life. You can find out what impact your ads have and how effective they are at reaching and interacting with consumers. Contact Mobile Billboard of Palos Hills today at 708.667.4196 to find out how we can help spread your message and make it stick!
10/22/2020
The simple aspect of Mobile Billboards is enough to turn heads all on its own. A large, moving ad seen in neighborhoods or interacting with a person going about their daily tasks? Yep – hard to forget and even harder to miss. Isn't it time to find out what this form of advertising can do for YOUR business?
10/09/2020
WHEN RUNNING A MARKETING CAMPAIGN, ALWAYS REMEMBER TO GAUGE YOUR WINDOW OF OPPORTUNITY AND PLAN ACCORDINGLY!
10/24/2018
We offer SCENTED MOBILE BILLBOARD - Aroma marketing, or fragrance marketing, is a form of sensory marketing. The main task is to influence the recipient in a targeted, but subconscious way. In practice, this action contributes to an increase in sales, extending the time spent in a specific place or can significantly affect a company's image. The scented billboard successfully attracts the attention of recipients and make the easy-to-remember marketing message arouse positive associations with a brand and/or product. Regardless of whether the billboard moves or is at a stand-still in a traffic jam, the scent can reach a significant quantity of consumer. Go to https://mobilebillboard.us/pf/scented-mobile-billboard/