Mobile Billboard 🏆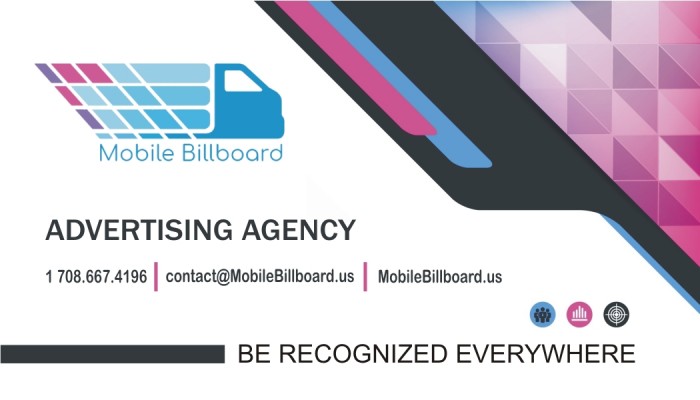 call now
BRAND RECOGNITION AND IDENTITY -We effectively present and perpetuate the brand of every business. We reach every group of clients with an advertisement not only through images but also through sound and smell. Subconsciously, we affect the senses of these recipients to propel the brand. INNOVATIVE METHODS IN BUSINESS PROMOTE - We apply creative and innovative solutions that attract customer attention. Our mobile billboards can be seen, heard or the consumer can even smell them, which makes every billboard permanently remembered by the viewer. PREPARATION, PERFORMANCE AND DEVELOPMENT - We prepare custom mobile billboard projects that actually reach recipients. We track mobile billboard recipients in real time. We support the business development of our customers.
222 W Merchandise Mart
Chicago
IL 60654
United States
3127610164
English, Polish
News
07/07/2020
Instead of becoming flustered with finding the PERFECT verbiage and campaign voice for your brand's new product, how about simply showing the world what it can do?
06/22/2020
Mobile billboards are twice as effective as standard billboards because they are relatively uncommon. In a world saturated with online ads, TV commercials and sales flyers, seeing a massive billboard stroll through your neighborhood is pretty noticeable. Today's marketing can be overwhelming and mobile billboards provide the fresh breath of air to a consumer. This element – this token – is what drives a consumer to remember more of the ad at a later time.
06/15/2020
With this kind of adaptability, mobile billboards – especially trailers – are able to head into areas traditional forms of media can't, grab attention and be remembered easily. Think of it this way: would you be more likely to remember another internet ad spamming your web surfing OR a mobile billboard ad strolling casually on the street in front of you as you water your grass? Versatile, on-the-go everywhere and much more affordable than traditional advertising, you are able to connect with customers in an exciting way that is sure to boost your marketing campaign to new levels!
06/08/2020
There is so much misinformation, confusion and opposition competing for brain space in the average individual's mind. Mobile billboards trump the odds and monotony, bringing your ad directly TO your target audience and staying in their minds long after it's gone. No matter what issue you're addressing and what aid you can bring to public attention, your message has a much better chance of being heard when it's rolling with Mobile Billboard!
06/01/2020
THE WHITE SPACE RULE DOES NOT APPLY TO OUTDOOR MARKETING!
05/25/2020
The entire Mobile Billboards staff would like to wish you a very happy and healthy Memorial Day!
05/18/2020
That's the other bonus – mobile billboard ads are pretty unforgettable. Why? Because they are giant signs rolling mere feet in front of them. It's not something you expect to see when gardening in your yard, sipping lemonade on your front porch or walking to the grocery store. It is this very random, unexpected surprise that naturally draws attention and puts the focus on you. Digital marketing and traditional advertising have become white noise and are nearly invisible to consumers who are used to being bombarded with ads online or having their fave shows interrupted by commercial breaks.
05/11/2020
How about using a platform that isn't overly saturated with business scratching and clawing to stay afloat, is extremely cost-effective and has over a 97% recall rate? That's right, mobile billboards are remembered by nearly all consumers LONG after the ad has come and gone. They also have the unique ability to go straight into the neighborhoods and pique the curiosity of bored families shuffling around the house, tinkering in their garages and working in their yards. This is something that traditional advertising continues to struggle with.
05/04/2020
TRY USING A VANITY PHONE NUMBER, UNIQUE HASH TAG OR SHORT, QUIRKY SITE URL TO CREATE A CONTACT DETAIL THAT WILL BE REMEMBERED.
04/27/2020
Unlike their shaky counterpart, mobile billboards are seeing a surge in popularity. Why? These ads are on the go and can head straight to the consumers neighborhood, local grocery store or essential needs facilities. You don't need consumers to head to the ad, the ad heads to them. In a time like now, this is absolutely critical. With less and less folks venturing outdoors and staying around their home and neighborhood, mobile billboards can stroll through target areas and bring important messages right to them.
04/20/2020
That's right, mobile billboards are the perfect way to reach people during quarantine and get your message to stick in their heads. Your ad drives right past their homes – right in front of their faces that are pressed to windows and doors longing for a post-quarantine world. More and more families have taken to short walks in their neighborhood or sitting out on their porches to enjoy the beautiful weather on a near daily basis in order to keep peace and sanity. The boredom quarantine produces has made the nation a captive audience starved for interaction or something new. Being one of the few people on the roadways, you'll draw more attention than ever!
04/13/2020
THE RIGHT MOBILE BILLBOARD COMPANY FOR YOU SHOULD HAVE EXPERIENCE IN YOUR INDUSTRY AND NOT BULLDOZE YOU!
04/10/2020
Mobile billboards are the most cost-effective marketing strategy at any time – meaning you pay less for more audience – and they have a 97% recall rate over traditional marketing – meaning they are remembered long after they've been seen. With a customized and unique campaign created for your business, you can get your product in front of the people who need it without the hassle of competition. And better yet, the public will remember it – whether they are in a store ready to make a decision or online looking for more information, your mobile billboard ad is more likely to pop into their heads than standard marketing.
10/24/2018
We offer SCENTED MOBILE BILLBOARD - Aroma marketing, or fragrance marketing, is a form of sensory marketing. The main task is to influence the recipient in a targeted, but subconscious way. In practice, this action contributes to an increase in sales, extending the time spent in a specific place or can significantly affect a company's image. The scented billboard successfully attracts the attention of recipients and make the easy-to-remember marketing message arouse positive associations with a brand and/or product. Regardless of whether the billboard moves or is at a stand-still in a traffic jam, the scent can reach a significant quantity of consumer. Go to https://mobilebillboard.us/pf/scented-mobile-billboard/