Pro Eco Life - Karol Dolega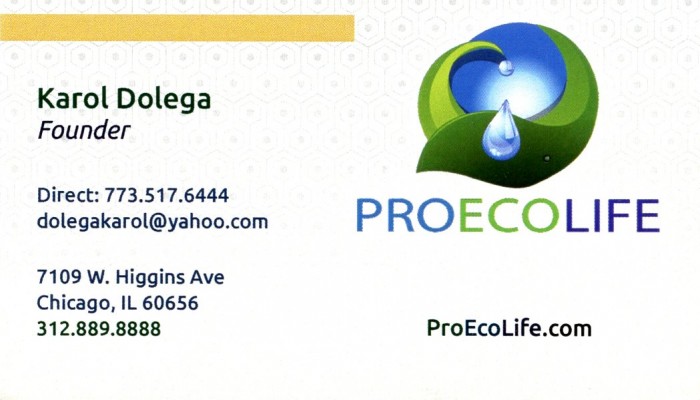 call now
7109 W Higgins Ave
Chicago
IL 60656
United States
3128898888
Polish, English
News
02/23/2021
So, when FIR is absorbed in our bodies, it can activate, reactivate, revitalize, strengthen and even develop organs. It can regulate blood flow, strengthen circulatory systems and even increase immunity and stamina.
02/16/2021
To Understand What Kind Of Filter System You Should Use, First Test Your Water Supply To See What You Truly Need Protection From.
01/26/2021
When you install a home water filter system, it is important that the unit uses several different kinds of filters and doesn't simply rely on one.
01/19/2021
There are options for clean water that you can have installed right into your own home or business. You can put in a simple under the sink unit or cover every faucet in your environment with a whole home system. Speak with your local water filtration experts to find out what products would be right for your space and budget.
01/12/2021
A QUICK WAY TO TELL IF YOUR WATER IS CONTAMINATED IS TO CHECK FOR CLOUDINESS, SLIMY HANDS, IF IT'S A DIFFERENT COLOR, IF IT SMELLS OR IF THERE IS A METALLIC TASTE.
12/15/2020
Bathing, house cleaning, laundry, cooking, drinking water for family and pets – we use water for nearly everything. Isn't it time the water you use is safe and pure, not just maintain optimal health, but to increase efficiency and function in your daily life, products and processes. Whether for you or a Christmas present for those you hold dear, nothing beats giving the gift of pure water!
12/08/2020
IF YOUR HOME WAS BUILT BEFORE 1986, YOUR CLOTHES ARE STILL DINGY AFTER WASHING OR YOUR WATER TASTES BAD, THESE ARE SIGNS THAT YOU PROBABLY NEED A WATER FILTER SYSTEM.
11/10/2020
Using state-of-the-art technology inspired by the U.S. military, our 9 filter whole home water purification system is the best option for homes and businesses who want safer, healthier options. Water is the most important fuel our bodies need to survive – you should never have to question it's quality!
11/03/2020
No one wants bad breath around the holidays, especially when they are celebrating around family and friends. The Mayo Clinic actually suggests drinking more water to combat this. You will wash away food particles and bacteria that cause bad breath in the first place. Keep your mouth hydrated and save everyone's nose.
10/22/2020
With the Pel75 home water filter system, you can rely on pure, clean water coming out of your faucets. This system not only cleans the water but eliminates volatile compounds, chlorine and other harsh chemicals that can be present in water supplies. Even rust and scale that can accumulate during trips down older pipes are removed with the Pel75.
10/14/2020
STAY HYDRATED ON HALLOWEEN BY AVOIDING CARBONATED BEVERAGES WHILE INDULGING IN SWEETS, DRINKING EXTRA WATER TO COMPENSATE AND CARRYING REUSABLE OR RECYCLABLE WATER BOTTLES WITH SPOOKY LABELS TO MAKE IT MORE FUN FOR THE KIDS!
10/06/2020
What you choose is based on what is best for you but, according to our research for these pros and cons, it seems that a reverse osmosis system will work better and provide more benefits in the long-run.
03/18/2020
While it isn't just Chicago showing high levels of harmful substances such as chloroform, radium and nitrate but protecting a nation starts one community at a time. Cleansing our drinking water is more important than ever before.
02/20/2020
Having clean water isn't just a cool idea, it's a necessity. Our bodies were built to run fully hydrated. If we aren't taking in enough water, or if the water we do consume is tainted, our body's systems simply can't run at their peak levels. The human body is miraculous in what it can offer and how it can protect us if we only nourish it correctly. Take a look at our guide, The Health Benefits of Pure Water, and you may be surprised to find out just how much our body craves good, clean hydration. You get good water from a typical filtration system but you get PURE water from a Pel75.
02/12/2020
At ProEcoLife, we realize the importance of feeding your body the proper nourishment it deserves. It isn't enough to just drink water – you need to hydrate without harsh chemicals in order to grow and maintain healthier systems. This is the driving force behind why our founder, Karol Dolega, created the Pel75 water filtration system. Using state-of-the-art military tech research, each filter and process inside our purification system is aimed to create some of the cleanest water on earth. Water that you can feel at peace using within your own home.
02/06/2020
YOU SHOULD DRINK 1 GLASS OF WATER EACH OF THESE TIMES: AFTER WAKING UP, THIRTY MINUTES BEFORE A MEAL, AN HOUR AFTER THE MEAL, BEFORE A BATH AND AN HOUR BEFORE BED.
01/30/2020
Make the most of your pure water by conserving and not wasting. Check Plumbing! First off, check for leaks. Slow drips or leaky toilets can waste 20 to 200 gallons EACH DAY. Make sure your hot water pipes are insulated so you reduce the water waste while you wait for hot water. Also, check your water heater thermostat and make sure it isn't set too high. This can waste a ton of water and energy because the water often has to be cooled with cold water before it can ever be used.
01/23/2020
More studies are taking place and measures put into place to rectify such issues but in the meantime, residents can decrease the likelihood of foreign chemicals by filtering their home and office water. A reverse osmosis system can help optimize water treatment to greatly reduce the presence of chemicals. Not only can these filter systems help clean drinking water but the water you wash and clean with. As of now, scientists from the Institute are working with those responsible for district water quality to dive into this matter deeper and, hopefully, come up with better safety measures for the future.
01/16/2020
DRINKING WATER CAN HELP YOU LOSE WEIGHT AND CURB MUSCLE ACHES OR FATIGUE BROUGHT ON BY NEW EXERCISE ROUTINES!
12/30/2019
Whether good or bad, it's time to call a wrap on 2019 and prepare ourselves for the wonder and opportunities of a fresh, new year. At ProEcoLife, we believe in the clean slate that a new year can provide. Many people make resolutions for healthier habits or a better quality of life but may not realize that this change can start with the very water they drink. Our Pel75 system uses state-of-the-art, military technology to truly purify and cleanse the water you drink and use to bathe and clean. We look forward to another year of providing only the purest water through our high-quality products to the Chicagoland area and beyond. Contact us today to find out how to truly benefit from our system and finally receive the nourishment that you and and your loved ones need!
12/23/2019
On behalf of all of us at ProEcoLife Water Systems, we send you the warmest wishes for a holiday filled with happiness, health and prosperity as well as a new year filled with opportunity and adventure!
12/18/2019
Research has shown that trees need pure water just like we do. Additives, contaminants and other substances added to water can actually cause a decrease in water retention which can increase needle loss. To keep your Christmas tree healthy, strong and even possibly ready to replant after the holidays, use water that has been filtered either through distillation or reverse osmosis processes. By giving your tree the purest water available, you are only strengthening its chance of survival.
12/12/2019
In the winter, dehydration works a bit differently. Instead of us losing water from sweating, water evaporates from our skin more quickly. This is why we get chapped lips and flaky skin. While lotion and lip balm can help soothe the issue, to truly remedy it, drink water. Your body is telling you that you aren't getting enough so take the time to replenish before it gets worse.
12/06/2019
TO COMBAT DEHYDRATION BROUGHT ON BY THOSE HOLIDAY COCKTAILS, FLUSH OUT YOUR SYSTEM WITH AN EXTRA GLASS OF WATER BEFORE BED.
11/26/2019
Wishing you a plentiful Thanksgiving celebration! From everyone here at ProEcoLife Water Systems, we wish you and your loved ones a very happy and safe Thanksgiving holiday. Whether you celebrate or not, we wish you a coming year full of happiness, health and prosperity!
11/21/2019
While Romans built complex irrigation systems and many people throughout the course of history have contributed greatly to harnessing and using water in many applications, we had very basic ways of purifying it. Hippocrates created the first bag filter in 500 BC to remove sediment from water but the evolution of technology is really what launched better processes for purification. Without all of these pioneers, we would not have the advances that allow us to drink pure, clean water. And so, thanks to creative minds and inventors, we have evolved to the point where we can have such advanced technology like the PEL75 water filtration system in our own homes. And thanks to the Native Americans sharing clean water sources and healthier ways to live, the Pilgrims survived an impossible situation and showed great thanks with a large feast that we associate as our current Thanksgiving holiday. The day has come to stand for our deep appreciation for life, health, family, friends, happiness and more but we can't forget that it was clean water that truly helped shape the holiday!
11/14/2019
The pipes that are most at risk of freezing due to polar temperatures are the ones in unheated interior spaces like your basements, attics, garages and even ones in your exterior walls. What is worse is that if your pipes freeze, this could cause damage to your home's reverse osmosis water system. Here are a few tips to keep your pipes from suffering a fate most foul and how to keep that water filter system running in peak shape.
11/07/2019
IF YOU ARE SITTING FOR LONG PERIODS OF TIME, ESPECIALLY AT WORK, LEAVE A CUP OR TUMBLER OF WATER IN PLAIN SIGHT ON YOUR DESK AS A CONSTANT REMINDER!
10/30/2019
Be sure to replenish your body before, during and after any Halloween activities you might participate in. When you are ready to make sure you are using the most efficient and pure fuel possible for you and your family, give ProEcoLife a call. We offer a variety of systems to have your home or office ready to provide the purest H2O possible for all of your upcoming holiday festivities.
10/24/2019
The point is to never feel thirsty. If you are thirsty, you are becoming dehydrated. Make sure you consume water throughout your day. When you are playing sports or exercising, be sure to drink fluids before, during and after the event. For those folks or children who have a hard time consuming water, try sports drinks. This will promote better hydration and keep your body fueled. Make a schedule for yourself in which you reach a certain fluid intake each day and keep a water bottle on you at all times. It will come in handy when you are running errands.
10/17/2019
Drinking water that has been purified keeps out harmful contaminants and bacteria that can cause illness and even death. Chlorine, a chemical disinfectant commonly used to clean pool water, is notorious for being in our daily drinking water. There are also a whole slew of metals and chemicals that wind up in our water supply. Rust, sand and dirt from older pipes can be found in tap water as well as bacteria. E. Coli, Giardia and other bacteria can contaminate water and are usually too late to spot until an outbreak occurs. Purified water eliminates contaminants, bacteria, metals, chemicals, etc. to give you the healthiest and most refreshing form of water you can find.
10/09/2019
TO FULLY NOURISH YOUR BODY, DRINK WATER-BASED LIQUIDS WITH EVERY MEAL, CONSUME FLUID BEFORE YOU ARE THIRSTY AND EAT YOUR WATER.
10/03/2019
In the end, the benefits of reverse osmosis systems far outweigh any other type of water output available today. Not only is this better for your health, your home and the environment but it gives you a peace of mind knowing that what you are taking into your body is clean, pure and able to help replenish and hydrate your cells. The difference is astounding and when you are finally ready to make the leap, only the cleanest water awaits you!