Air Temp Heating & Cooling Inc.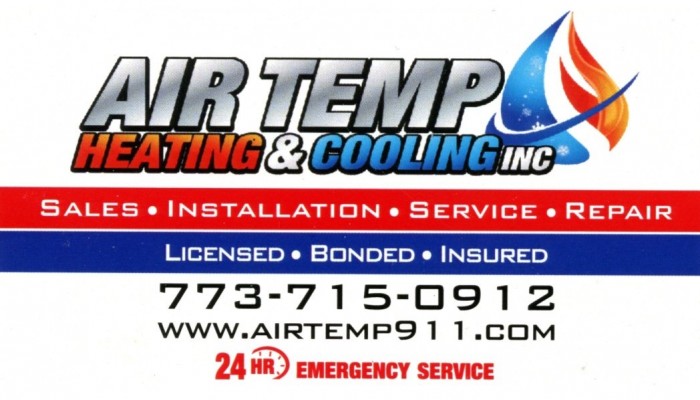 call now
HVAC CONTRACTORS CHICAGO HVAC Repair Service & HVAC Installation LICENSED – BONDED – INSURED If you are looking for one of the best HVAC contractors in Chicago, look no further than Air Temp Heating & Cooling Inc. We are a proud dealer of the Trane – manufacturer of high quality heating, ventilating and air conditioning systems. From heating and AC repair to HVAC installation, we have you covered. Our prices are affordable and our staff are extremely experienced with every aspect of heating and cooling systems, whether you need service, repair, or installation. We know just how important heating and cooling is to a family, so we ensure that each of our jobs is performed quickly and well.
10150 Virginia Ave
Unit F
Chicago Ridge
IL 60415
United States
7737150912
6308308249
English, Polish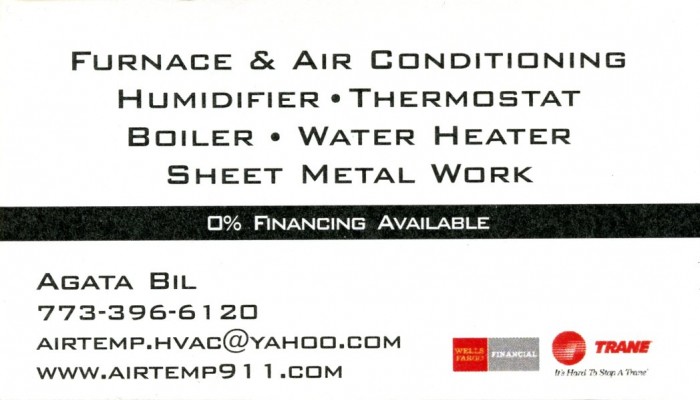 News
03/03/2021
A SIMPLE WAY TO INCREASE EFFICIENCY AND IMPROVE AIR QUALITY IS TO UPGRADE YOUR AIR FILTER. A PLEATED OR ELECTROSTATIC AIR FILTER CAN INCREASE THE AMOUNT OF ALLERGENS AND POLLUTANTS ELIMINATED FROM YOUR AIR!
02/24/2021
While checking the license information is critical, it helps to know how professional the contractor and/or company is. You can find this information out fairly quickly by looking at the following: Reviews, Better Business Bureau, Angie's List and Ask for Referrals.
02/17/2021
When furnaces are given maintenance, they run better. A furnace running well will keep your home a nice temperature without you having to hike up the thermostat just to keep from freezing.
02/03/2021
WHEN KEEPING YOUR HOME WARM DURING THE COLD OF WINTER, CONSIDER SKIPPING THE FIREPLACE. WOOD-BURNING FIREPLACES CAN ACTUALLY DRAW YOUR HOME'S HOT AIR RIGHT OUT THROUGH THE CHIMNEY!
01/27/2021
Having a service contract in place will guarantee you annual check ups/tune ups which keep your system running efficiently. An efficient system will cost you less on energy bills. A system that is continually checked and maintained will also catch small issues before they become big, expensive repairs. With a service contract in place, you can schedule ahead so you don't have to try and remember that on top of everything else on your plate. You've already paid for them so why not schedule them ahead of time?
01/20/2021
Air Filters – Change 'Em Out! This is by far the easiest thing you can control with your HVAC system. Check the air filters for dust or grime and replace them at least every three months or sooner if necessary.
01/13/2021
KEEP IN MIND THAT ISSUES SUCH AS INSTALLATION, ROUTINE MAINTENANCE, FILTER CLEANING OR POWER OUTAGES DON'T WARRANT A CALL FOR EMERGENCY HVAC SERVICES AND YOU CAN SAVE YOURSELF SOME DOUGH AND HASSLE!
12/16/2020
It is absolutely critical to keep your wall and floor vents clear. Blocking them with presents, decorations, furniture or a Christmas tree will only cause your HVAC system to work harder and longer, a strain that may be too much for an old unit or one that hasn't been properly maintained. Make sure there is ample space around air vents.
12/09/2020
Contact your local HVAC professional to inspect your system just in time for the holidays. They will clean, repair, stop issues before they start and perform the necessary maintenance that your heating and cooling system needs to stay efficient. To keep your unit in the best shape possible, you should be scheduling a tune up for major season changes – spring and fall. If that isn't possible, at least have one performed every year.
12/09/2020
Contact your local HVAC professional to inspect your system just in time for the holidays. They will clean, repair, stop issues before they start and perform the necessary maintenance that your heating and cooling system needs to stay efficient. To keep your unit in the best shape possible, you should be scheduling a tune up for major season changes – spring and fall. If that isn't possible, at least have one performed every year.
11/24/2020
Even though our holidays may look different this year, staying warm during winter shouldn't. Be sure to hire your local heating and cooling company to inspect and clean your unit so it's ready to tackle another Midwestern winter. With flexible pricing options, high quality products and premier service, our Air Temp HVAC techs are ready to handle all of your heating needs. We even offer 24/7 emergency services to get you back up and running as quickly as possible during dire times. Give us a call today to find out what we can do for you.
11/18/2020
WHEN IT COMES TO CELEBRATING THANKSGIVING DURING THE COVID PANDEMIC, IMPROVE YOUR AIR QUALITY AND HELP YOUR HVAC SYSTEM BY OPENING WINDOWS, CHANGING YOUR FILTER, GETTING A TUNE UP AND INSTALLING AN AIR PURIFIER!
11/11/2020
We offer 24/7 emergency services to get you back up and running as quickly and efficiently as possible. With over 20 years experience in the heating and cooling industry, our technicians are trained in the most innovative solutions for you system. Air Temp HVAC strives to deliver amazing service using quality products so you can rest easy knowing your heating system is in good hands.
10/28/2020
One of the best things you can do for your entire HVAC system is have an annual inspection/tune-up performed by your local heating and cooling professionals. They can assess any needed maintenance and curb issues before they have a chance to start. No matter what heating system you use – perform the necessary maintenance for it each season so it stays in optimal shape. You can contact the installer or a local HVAC specialist for guidance on proper maintenance.
10/23/2020
If you have a fireplace, close the damper. Dampers seal the chimney when there is no fire running to keep cold air out. The job of a damper is to send smoke away and control the intensity of your fire. Leaving it open in the winter will only make your home colder and force your heating system to work harder than necessary.
10/15/2020
You should be confident that your HVAC is repaired correctly and by capable pros. Our Air Temp technicians have over twenty years installing, repairing and maintaining residential and commercial heating and cooling systems all over Chicagoland. We've seen and handled it all!
09/30/2020
The benefits of getting a simple furnace tune up far outweigh the consequences of neglect. Don't hesitate to have your local HVAC company come take a look and make sure you are all set to glide through the winter comfortably, safely and without leaking more money than necessary!
03/18/2020
Whether it's cold and flu season, pollen and allergies or that you live in an area with poor air quality, there are ways you can reduce illness and improve the environment in your home. The most important thing to do is to diligently change the filter on your HVAC system every couple of months. This is a small but important step in keeping the air quality of your home better quality but also helping your HVAC system run more efficiently and with less strain.
03/11/2020
At Air Temp HVAC, we believe that every individual deserves help accessing quality HVAC systems and services so we provide flexible pricing options and even special financing for those with approved credit. HVAC repairs can be unexpected and costly but it's our goal to try and ease that stress with better options and affordable rates. We even offer 24/7 service to get you up and running as soon as possible.
03/04/2020
At Air Temp Heating and Cooling, we put the customer first and focus on making your experience as easy as possible. Our HVAC technicians have spent decades servicing Chicagoland heating and air conditioning systems and addressing every type of problem imaginable. We take the time to explain what happened, next steps needed and help you overcome obstacles. Air Temp even offers financing options to allow added flexibility in handling unexpected repairs or installations.
02/25/2020
TO REDUCE MOLD GROWING IN YOUR DUCTS, CLEAN DRIP PANS REGULARLY, CHANGE HVAC FILTERS AND HAVE A PROFESSIONAL SEAL ANY LEAKS TO KEEP THE SYSTEM DRY!
02/19/2020
There are other issues that could pertain to your boiler system but these are the most common warnings homeowners experience. When you have a boiler installed, it comes with a manual. This manual will walk you through simple maintenance processes and troubleshooting for basic issues. If there's a problem like those listed above or you don't feel comfortable carrying out any manual instructions, we recommend that you not try to fix the boiler yourself and contact a trained boiler professional as soon as possible. By scheduling annual check ups for your system, you can address issues before they become major hassles and save money on costly repairs!
02/11/2020
AirTemp Heating and Cooling offers high quality service at some of the best prices in the Chicagoland area. Our experienced technicians are ready to repair, maintain or install any and all of your HVAC needs 24 hours a day, 7 days a week. Your heating system is vital for cold Chicago winters and we guarantee your satisfaction with our impeccable service. Don't get left in the cold this Valentine's and schedule your HVAC check up today!
02/05/2020
TO KEEP PESTS FROM TAKING UP RESIDENCE IN YOUR HVAC SYSTEM, INSTALL MESH SCREENS JUST BEHIND YOUR HEATING SYSTEM OPENINGS, CLEAR DEBRIS AND DUST AND CHECK FOR CRACKS AND GAPS THAT THEY CAN CRAWL INTO.
01/29/2020
It may seem logical to keep radiators and vents clear so the air can circulate better in a room but sometimes we forget. Perhaps the furniture has a hard time fitting just right. Maybe a chair moves during use or you aren't sure where to put that bed. Whatever the cause, keep furniture, drapes, rugs and debris off of these items. Also check your ducts and make sure there are no poor connections or leaks. You can remedy them yourself with high-quality metal tape or mastic sealant but consider calling an HVAC pro in case what you see is simply an indication of a larger issue.
01/22/2020
Whether you have questions or are not so sure about how to handle maintenance on your system, contact your HVAC professionals. They can assist you on tuneups, installations, repairs and even how to install components to keep your system clean. Never be afraid to ask questions about what they are doing or what steps you should be taking to keep heating and cooling systems running properly. And always remember, better safe than sorry!
01/15/2020
TO REDUCE HVAC COSTS IN THE WINTER, CLOSE UP ALL AIR LEAKS AROUND YOUR PERIMETER, ADJUST YOUR THERMOSTAT AT NIGHT TO SLEEP BETTER WHILE SAVING MONEY AND TOSS ON EXTRA LAYERS TO DROP ENERGY COSTS!
12/30/2019
As we say goodbye to this year we have so many wondrous things to look forward to in the coming 2020. At AirTemp HVAC, we are proud to continue to provide the Chicagoland community with quality products and service as we tackle all of your heating and cooling installation, maintenance and repair needs. With only the best products, most experienced techs and customized financing options, AirTemp is ready to help you overcome any HVAC problems that head your way. For those times where your unit has left you high and dry and you need help fast, we offer 24/7 emergency services. Reach out to us today to find out how you can keep your systems running in peak condition this 2020!
12/23/2019
From our family here at AirTemp HVAC, we would like to wish you every happiness this holiday season and throughout the coming year. All the best to you and your kin!
12/18/2019
Replacing an HVAC system for your home can be quite a costly endeavor so you'll want to preserve your unit for as long as possible. Be sure to schedule check ups twice a year, change your filter regularly and check your outdoor condenser for damage and to make sure it isn't obstructed by debris. Installing a smart thermostat is also a great way to control your home's temp better and keep your energy bills reasonable. Addressing problems as soon as they arise will go a long way in keeping your system running in peak shape longer.
12/12/2019
Discarded wrapping paper, blankets and holiday packages are the signs of a great event but can also be highly dangerous. Be sure to keep these items away from radiators, space heaters, electric blankets, etc. These items are highly flammable and can cause a fire if left near a heat source. Try and pick up waste paper immediately to reduce mess and lessen risk of fire. You can even make a game out of it where everyone switches off holding the garbage bag while the one opening the present tries to sink their debris inside like a basketball.
12/06/2019
WITH THE HOLIDAYS APPROACHING AND WINTER WINDS BLOWING, BE SURE TO INSTALL A SURGE PROTECTOR ON YOUR SYSTEM TO PREVENT POWER SPIKES OR OUTAGES FROM DAMAGING UNIT COMPONENTS!
11/26/2019
The entire crew of AirTemp HVAC would like to wish you a very blessed Thanksgiving! We would like to take a moment to send you the warmest wishes from the bottom of our hearts that you have a wonderful Thanksgiving. May it be a beautiful reminder of all the glorious things you have and set the stage for a year of endless opportunities!
11/20/2019
You should have your HVAC system inspected annually to ensure it is running at peak performance. A local HVAC tech checking your unit can spot issues before they get worse which helps save you money on major repairs down the road. If you haven't had your system checked recently, try and schedule a check up before the holidays. You definitely don't want your unit crashing when you have a house full of guests!
11/13/2019
Also, make sure all of your hot water pipes are insulated with foam rubber sleeves or insulated wraps. This keeps the heat inside the pipe where it belongs and reduces the stress on your water heater or boiler system. It will also keep you waiting much less time for hot showers! Your local HVAC technician can also help make sure all of your systems are unclogged, insulated and efficient.
11/06/2019
A QUICK WAY TO FIND OUT IF YOUR THERMOSTAT IS WORKING PROPERLY IS TO USE A SMALL THERMOMETER TO GET A SEPARATE READING OF THE ROOM. IF THEY ARE MORE THAN A DEGREE APART, YOUR THERMOSTAT IS LIKELY NOT GIVING ACCURATE READINGS AND SHOULD BE BROUGHT UP TO YOUR REPAIR TECH.
10/29/2019
When you find your system might be struggling to keep up or you want to make sure that you are not at risk for a breakdown during upcoming frigid months, give AirTemp 911 a call. We can help keep your home's HVAC systems running smoothly and keep them ready to tackle the cold weather and influx of family visiting for the holidays!
10/23/2019
When trick-or-treaters come around on Halloween, consider sitting outside to pass out candy. Unless it is raining or bitterly cold, you can avoid having to constantly open your door letting precious heat out and making it harder for your home to eliminate chill.
10/16/2019
When hanging decor in and around your home, be sure to keep all vents clear. Blocking vents and registers indoors will stop warm or cool air from being able to leave the ducts. Avoid putting decorations on or too close to your outside unit. Your outdoor unit needs proper airflow through vents and placing items on or blocking units can cause damage. Take care with decorations such as spider webs because pieces of cotton, cloth or paper can fly loose and make their way into your outdoor unit and cause problems with your system.
10/09/2019
DETECT DRAFTS IN YOUR HOME BY USING INCENSE. TURN OFF YOUR FURNACE AND WATER HEATER BUT TURN ON YOUR EXHAUST FANS. HOLD THE LIT INCENSE STICK BY WINDOWS, DOORS, ETC. SMOKE BLOWING SIDEWAYS MEANS THERE IS LIKELY A LEAK.
10/02/2019
These are important expectations to have in mind when an HVAC technician comes to service your unit. You should never settle for less than the best service when it comes to your home or business heating and cooling systems. Make sure the company you choose offers financing options in case you run into a costly repair and that they receive approvals fairly quickly so you don't have to wait too long for your system to get back to peak performance. Find out if they have a company app or easy options for payment.
09/25/2019
A/C units were not initially invented to keep your home cool. Publishing magnate, Willis Carrier, designed the first cooling unit in 1902 to provide an ideal indoor temperature to stop papers from expanding and contracting and to keep ink from running.
09/18/2019
PAY ATTENTION TO HOW YOU LANDSCAPE THE SOUTHERN AND WESTERN SIDES OF YOUR HOUSE. IF CERTAIN MATERIALS AREN'T SHADED, THEY WILL RADIATE HEAT AND INCREASE THE TEMPERATURE AROUND YOUR HOME.
09/11/2019
Another important service your Chicago Ridge HVAC contractor provides is annual inspections. Often overlooked, these are absolutely critical in preserving the life of your HVAC systems. By performing regular maintenance you can spot issues before they get worse and keep things running smoothly and efficiently. Not only do regular check-ups keep your energy costs low because your unit is running in tip-top shape but it saves you from having to pay for an expensive repair or having your system crash in extreme temps.
09/04/2019
At Air Temp Heating and Cooling, we understand the urgency of each situation and how it affects our clients. With over 25 years servicing the HVAC systems of Chicagoland, our professionals have seen it all. We use industry-leading products and customized solutions to address every unique concern to your home or office system. With 24 hour emergency services, we are here to help alleviate your stress and get those units back on track. Our experts are ready to tackle all of your heating and cooling needs with quick, efficient and professional attention.
08/28/2019
BE SURE TO CLEAN THE FINS ON YOUR OUTSIDE UNIT WITH AN A/C FIN COMB TO KEEP IT RUNNING EFFICIENTLY. IN A PINCH, YOU CAN ALSO USE A TOOTHBRUSH – JUST MAKE SURE YOU DON'T BEND THE THIN METAL.
08/21/2019
With years of experience installing and fixing HVAC systems in the Chicagoland area, we deliver the same amazing customer service and high-quality products at affordable prices that our customers have come to depend on. We even offer special financing options to help defray the cost of a pricey repair and flexible pricing to ensure HVAC service is accessible to everyone. No one asks for a breakdown and you shouldn't have to stress about how to afford getting your unit back in shape.
08/15/2019
Right in line with better performance, the better off your system is, the higher quality of air it will output into your home's atmosphere. Keeping indoor allergens under control can sometimes be more important than anything trailing in from outside. Respiratory issues can occur if dust, dander, mites, smoke, pollen and mold aren't filtered out of your system. Keeping your ducts clean and clear, changing your air filter and having an HVAC tech make sure everything is up to snuff is key to keeping a higher air quality for your family's health.
08/08/2019
TO DETERMINE THE SIZE AC UNIT THAT YOU NEED, ONE TON COOLS ABOUT 400 SF. ONCE YOU KNOW THE TONS FOR YOUR SPACE, MULTIPLY THAT BY 12,000 BTUS. THAT FINAL NUMBER IS WHAT YOUR UNIT NEEDS TO CLEAR PER HOUR.
08/01/2019
Whether you live in Palos Hills or another Chicago suburb, our HVAC experts are ready to save you time, money and provide the professional advice and skills that your system needs. We understand how important your unit is to your home and family and strive to exceed your expectations on what HVAC repair and installation should be. Give us a call today!
07/25/2019
Our HVAC professionals have been proudly serving the Chicagoland area for nearly a decade, delivering the same high quality equipment and amazing customer service our customers have come to rely on. Not only can be provide efficient solutions for all of your cooling repair needs, we can update and rebuild old HVAC units or design and install modern, energy efficient systems. We are so sure that we'll do a great job in handling your heating and cooling issues that we even offer a lifetime guarantee of satisfaction for all our services.
07/11/2019
TO AVOID DAMAGE FROM FLOOD WATERS, RAISE THE CONCRETE SLAB YOUR OUTSIDE HVAC UNIT RESTS ON OR BUILD A WALL ENCLOSURE BASED ON THE 100 YEAR FLOOD PLAIN FOR YOUR AREA.
07/03/2019
Parties cause humidity in your home because every exhale that a person takes raises your moisture levels. To prevent this and the fact that there may be a stream of people coming and going, run your A/C unit a for a few days prior to the party. This will help remove as much moisture from floors, walls and furnishings as possible. You can even purchase a dehumidifier to help knock that moisture out of the air.
06/27/2019
It may seem like using fans and air conditioning is an either or situation but it isn't. You should be using fans WITH your A/C. This circulates the colder air around a room faster and more efficiently. Sweat evaporates quicker with air circulation so your skin feels cooler. This means you can set your A/C at a higher temp and still feel just as cool, saving you money on your energy bills.
06/20/2019
WHEN YOUR A/C STARTS ACTING UP, A COMMON CAUSE IS A CLOGGED CONDENSATE DRAIN PIPE. THIS IS THE PIPE THAT REMOVES CONDENSATION FROM YOUR UNIT AND CAN BECOME BACKED UP WITH ALGAE OR DEBRIS.
06/14/2019
If you have a portable, wall-mounted or window A/C unit, you have to manually clean the filter. Read your unit's instruction guide to find out how to safely access the filter. Every 2 weeks, dust the filter off and then rinse it in warm, soapy water. Let it dry completely before putting it back into the unit.
06/07/2019
Closing or blocking air vents in various or even unused rooms is a big no-no. This actually suffocates your air conditioner. It is trying to blow the cool air out of those vents but, if it can't, pressure is increased inside of the ducts. This causes the blower to consistently run but at a MUCH lower speed so now you have little air coming out of your air vents to actually cool your home.
05/31/2019
TURN OFF CIRCUIT BREAKERS TO HEATING AND AIR DURING A POWER OUTAGE TO AVOID DAMAGING THE UNIT OR CAUSING A POTENTIAL FIRE HAZARD AND INSTALL A SURGE PROTECTOR TO PROTECT THE UNIT FROM ELECTRICAL SPIKES.
05/24/2019
If your a/c breaks down, avoid using anything that gives off heat – ovens, dishwashers, dryers, cooktops, etc. Eat cold foods – sandwiches, fruits, salads – or head out to a nice, cool restaurant. Turn off or unplug all unnecessary electronics – lights, tvs, computers, radios, etc. The point is to avoid increasing the already hot atmosphere.
05/16/2019
When the heat bears down on you this summer season, there are a couple of things you can do to make your unit run more efficiently. Always keep all doors and windows shut when running your a/c and make sure you call in an HVAC professional to perform a routine checkup on your unit. Dirty air filters, coils, clogged drain lines and accumulated debris can all create needless obstacles for your a/c unit to overcome.
05/09/2019
ON THE EXTERIOR OF YOUR HOME, MAKE SURE THE STOVE VENT IS VENTING AWAY FROM YOUR HVAC UNIT. THE AIR YOU ARE TRYING TO GET RID OF WILL JUST CIRCULATE BACK INTO YOUR HOME.
05/02/2019
At AirTemp Heating and Cooling, we strive to solve our customers problems with innovative solutions and leading industry knowledge. Our staff are expertly trained to tackle the most challenging and complex heating, cooling and ventilation situations. We believe that no matter what life throws at you, you need to know the people you call when you're in a jam are the ones you can truly count on.
04/25/2019
Keep registers clear of furniture so air can circulate freely. Place heat-resistant reflectors between radiators and walls so you heat the room and not the wall.
04/18/2019
Consider Changing Out Incandescent Light Bulbs For CFL Or LED Lights. They Stay Significantly Cooler And Don't Give Off The Same Heat As Incandescent Bulbs. You Can Also Save On Energy With CFL And LED Bulbs.
04/11/2019
A light roof color or using reflective materials on your roof can keep it 50% cooler and not bake the rooms underneath it.
04/05/2019
At Air Temp Heating & Cooling, our top priority is providing solutions for our customers needs. Our staff are meticulously trained in top industry standards and provide only the best Trane products to maximize the efficiency of your heating and cooling requirements. Each of our clients has a unique situation that must be handled with care and strategy. This is why we provide 'round the clock emergency service so you don't ever have to be left hanging because of an HVAC problem.
03/29/2019
Keep Temperature Even Where Your Thermostat Is. Lamps Or Televisions Nearby Can Trick Your Thermostat Into Thinking The House Is Hotter Than It Is And Waste Energy And Money Running A/C Longer.
03/20/2019
A Furnace and Boiler are NOT the same thing. A furnace heats air and moves it through ducts while a boiler heats water and moves it through pipes.
03/13/2019
A spike or drop in humidity can cause as much discomfort as your standard allergens. If there is too much humidity, you increase the chances of mold spores popping up and spreading but if the air is too dry, your skin will become extremely dry and your pores can clog. You can use a dehumidifier or a humidifier to regulate your home's levels if your HVAC system isn't keeping up. If it is a persistent problem that even simple machines can't help fix, you may need to revamp your HVAC system.
03/06/2019
If you keep up on your season checks and have a technician maintain your system annually, you should be able to avoid any major problems and keep things running smoothly. Spring clean up and checks are important to avoid a broken system in the middle of summer when the temperatures are disastrous.
02/27/2019
To Save Energy, Reverse The Direction Of Your Fans. In Summer, Blades Should Rotate Counter-Clockwise And Clockwise In Winter. There Is A Switch At The Base Of Your Fan That Changes The Blade Direction.